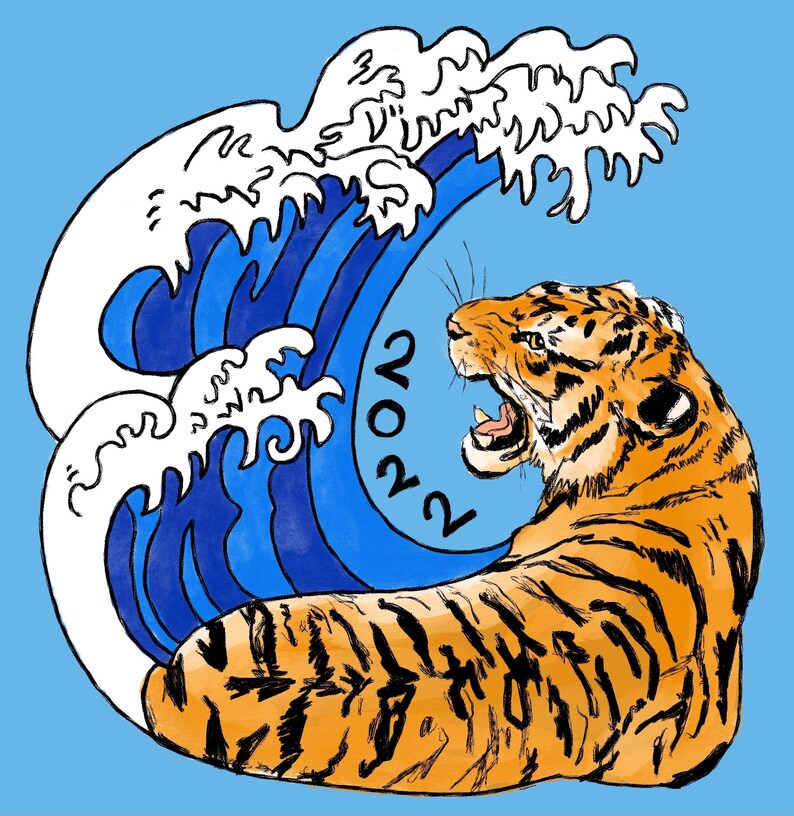 2022 is a year of the Water Tiger. It starts from February 1st, 2022, and ends on January 21st, 2023. A Water Tiger year occurs every 60 years.
Years of the Tiger include 2022, 2010, 1998, 1986, 1974, 1962, 1950, 1938.….
The Tiger is known as the king of all beasts in China. The zodiac sign Tiger is a symbol of strength, exorcising evils, and bravery. Many Chinese kids wear hats or shoes with a tiger image for good luck.
Ox and Goat are the luckiest zodiac signs in the year of 2022. For those born in the years of the Rat, Snake, Monkey, Pig and Dog, you will need to make comparatively more effort in order to make achievements. Rabbit, Dragon, Horse, and Rooster people are destined to enjoy a smooth life and good luck in making money this year. Tigers will encounter their 'birth sign year' (benmingnian本命年) in 2022. Wearing red will bring good luck in a birth sign year.
Water Tiger comes from Tiger's five elements (Gold, Wood, Water, Fire and Earth). 2022 is the Year of the Water Tiger, which indicates a prosperous year due to the Tiger's auspicious signs (strength, exorcising evils and bravery).  
Chinese people believe that what you do at the beginning of a new year will affect your luck in the coming year.
The Tiger ranks the third among the animals of the Chinese zodiac. The 12 zodiac animals are, in order: Rat, Ox, Tiger, Rabbit, Dragon, Snake, Horse, Goat, Monkey, Rooster, Dog, and Pig. Each year is related to an animal sign according to a 12-year-cycle.
Things that will bring Tigers luck:
Lucky numbers: 1, 3, and 4 and numbers containing them (like 13 and 43)
Lucky days: the 16th and 27th of any Chinese lunar month
Lucky colors: blue, gray, orange
Lucky flowers: yellow lily, cineraria
Lucky direction: east, north, south
Lucky months: the 3rd, 7th, and 10th Chinese lunar months.
Things that Tigers should avoid:
Unlucky numbers: 6, 7, and 8 and numbers containing them (like 67 and 87)
Unlucky color: brown
Unlucky direction: southwest
Unlucky months: the 1st, 4th, 5th, and 11th Chinese lunar month
2022 is a good year for Tigers to get married. Single Tigers will have a big chance to find a boyfriend/girlfriend. Tigers at the age of 24 or 36 need to pay more attention to managing relationships as their luck in love will fluctuate in 2022.
Career: Tigers will have opportunities to get promoted in 2022. After working hard for many years, Tigers will finally get approval from their leaders. Tigers, don't be too high-profile, otherwise you may incur trouble and jealousy from petty colleagues.
Wealth: Tigers should be careful of entering into monetary relationships with others in 2022. Don't expect a big windfall or massive achievement. Reasonably spending their money will help Tigers to go through 2022 smoothly. In their birth sign year, Tigers are not suggested to invest much in stocks or funds.
Lucky colors: orange, black, and blue
For Tigers in 2022, orange will help improve wealth fortune, black will help improve career development, and blue will help pursue happiness of love. Tigers are suggested avoiding brown, gold and silver this year.