Transformative Pluto starts its retrograde journey today, which lasts until October 6. During this time, you could be forced to embrace your secret taboos or revert to old sexual desires. Embracing the taboo is essential now. We have an opportunity to dive deep within and find the courage to address and assert our passion for the next five months.
Break out of routine and change your overall energy by embracing change. The need for power runs deep, and you might want to take control or dominate others. Power struggles could persist due to confusion as to who is the "boss" or the one calling the shots in your relationships.
This energy can increase sexual prowess as well. Pluto retrograde can urge us to break out of restrictions and be open about our sexual desires. Power can be an aphrodisiac for you, and you could be attracted to those who are famous or successful. But now you're using your authoritative energy to attract others who see you as the powerful person you are.
Discussing your most secret sexual fantasies might make you blush at first, but you'll be newly emboldened after you let your desires be known. Accepting yourself is crucial for your personal growth. Embrace your passion. No one is judging you but you (and you can stop now)!
Our awareness is stretched today, perhaps leading to broader understanding and a sense of connection — or leaving us feeling at odds and disconnected with those around us. We are challenged to look at both sides of any opposing views. We may be seeing some significant revelations from today's Full Moon but struggle to put them into some kind of context. Indecision may be a form of stubbornness when we don't feel capable or ready to use our observations to guide our actions. Pluto turns retrograde today and, in this atmosphere, may be seen as an indicator of a need to make changes within instead of continuing to demand changes from the world around us.
ASTROLOGICAL SNAPSHOT
Today is the 117th day of 2021
54 days until the summer solstice
33 days until Mercury Retrograde
249 days until 2022
Sun is in Taurus
Moon is Full in Scorpio
Mercury is in Taurus
Venus is in Taurus
Mars is in Cancer
Jupiter is in Aquarius
Saturn is in Aquarius
Uranus is in Taurus
Neptune is in Pisces
Pluto is in Capricorn
Chiron is in Aries
---
Mercury is retrograde from May 29th and goes Direct on June 22nd in the signs of Gemini/Taurus
Jupiter is retrograde from June 20th and goes Direct on October 18th in the signs of Aquarius/Capricorn
Venus is retrograde from December 19th and goes Direct on January 29th (2022) in the signs of Capricorn/Sagittarius
Saturn is retrograde from May 23rd and goes Direct on October 11th in the sign of Capricorn
---
DAILY ORACLE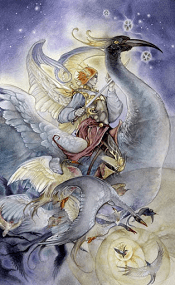 Oracle Message: With the bit between your teeth, you are on top of every game today.
The Prince of Swords is all about the intellect and it will feel at times today that it has a life force all its own. You may at times feel like a spectator to your own life. This doesn't have to be a bad thing, channel this mental energy and you will have one of the most satisfying and productive days you've had in a long time.
It might be a good idea to write down all the ideas that come to you, in their raw form and all the adjustments, so you can reassess them when you're in a mentally calmer state. If you do that though, be careful not to let your inner naysayer get in the way of the potential that flew from your active and brilliant mind today.
Such high energy can also bring about tension. Arguments can ensue & you may find yourself verbally defending yourself or your position. You may also be taking the fight to someone else. One thing is for sure, with the bit between your teeth, you are on top of every game today.
---
Follow me on Twitter and Facebook!
Bookmark this site to get your daily collective astrological overview. You can also sign up to receive notifications by email whenever a new forecast or engaging article is posted.