Today's optimistic Sun-Jupiter sextile increases the importance of tomorrow's even more potent Mars-Jupiter trine but also injects more of the challenging ego factor — something to prove — that keeps the atmosphere stirred up. This is a highly spontaneous and unpredictable atmosphere and the intensity may seem quite difficult to manage. Frustration may emerge that seems to come out with more intensity that we expect. Nonetheless, there are likely to be further developments tomorrow which allow for resolutions or show more promising results than we may be able to recognize today. Riding through this environment where there seems to be a constant need for adjustment may be extremely challenging for many of us but, with a philosophy of optimism — an attitude of gratitude — we will emerge on the other side in a surprisingly comfortable place.
The moon takes its first steps in Gemini this morning, activating your mind, your desire to communicate, and your curious nature. You'll likely be busy with your phone over the next two days because you could be pulled to connect and chat with others more than usual. Just make sure you put social media aside now and then to help ground and center you.
A helpful aspect between the sun and Jupiter brings some especially auspicious energy to the party. The moves you make today should go over quite well, so take a proactive approach when it comes to accomplishing your goals and manifesting the future you desire.
However, a frustrating minor aspect between Mercury and Neptune could put a damper on things, especially if you're experiencing self-doubt or a dip in your ego. Remember to focus on the positive. Combat any feelings of unworthiness with positive affirmations and a belief in yourself.
A helpful aspect between Saturn and the north node can help you build up your confidence through solid planning for the future. Make a to-do list and attack your goals step-by-step. It can do wonders when it comes to embracing the change you wish to manifest in your life.
The moon links up with the north node this evening, helping you leave behind fears and find hope and inspiration for what's to come!
ASTROLOGICAL SNAPSHOT
Today is the 105th day of 2021
66 days until the summer solstice
44 days until Mercury Retrograde
260 days until 2022
Sun is in Aries
Moon is Waxing Crescent in Gemini
Full Moon occurs on April 27th in Scorpio
Mercury is in Aries
Venus is in Taurus
Mars is in Gemini
Jupiter is in Aquarius
Saturn is in Aquarius
Uranus is in Taurus
Neptune is in Pisces
Pluto is in Capricorn
Chiron is in Aries
---
Mercury is retrograde from May 29th and goes Direct on June 22nd in the signs of Gemini/Taurus
Jupiter is retrograde from June 20th and goes Direct on October 18th in the signs of Aquarius/Capricorn
Venus is retrograde from December 19th and goes Direct on January 29th (2022) in the signs of Capricorn/Sagittarius
Saturn is retrograde from May 23rd and goes Direct on October 11th in the sign of Capricorn
---
DAILY ORACLE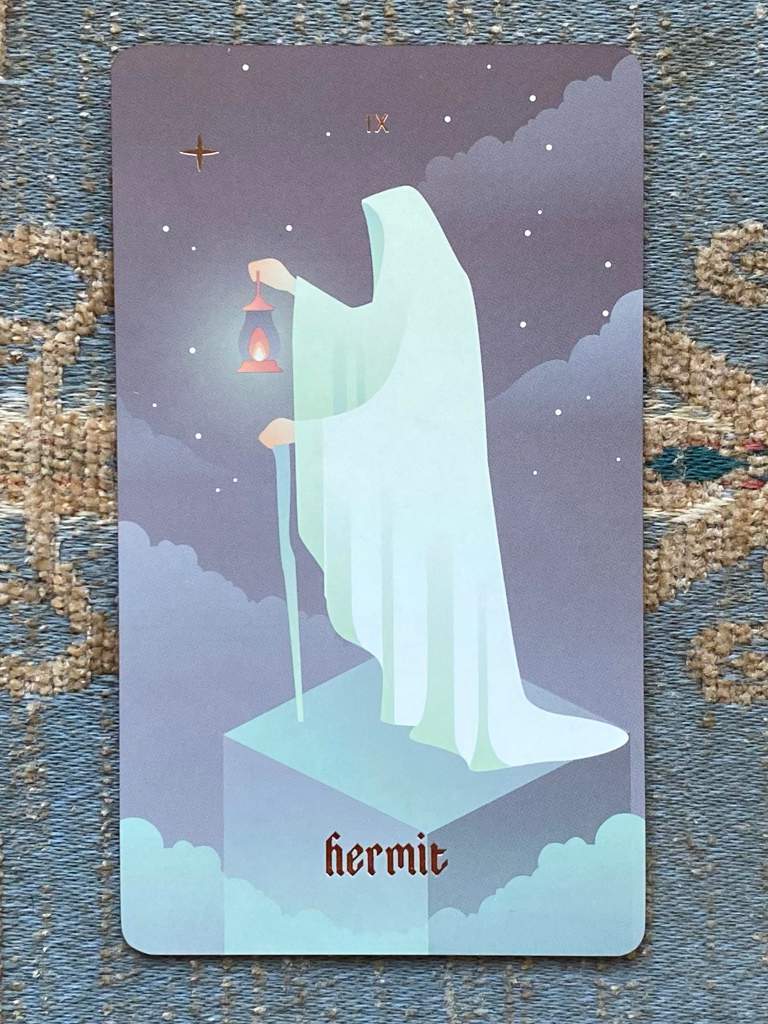 Seventh Sphere Tarot
The Hermit shows that you are taking a break from everyday life to draw your energy and attention inward and find the answers you seek, deep within your soul. You realise that your most profound sense of truth and knowledge is within yourself and not in the distractions of the outside world. You leave behind the mundane to set off on a journey of self-discovery, led only by your inner wisdom and guiding light. Now is the perfect time to go on a weekend retreat or sacred pilgrimage, anything in which you can contemplate your motivations, personal values and principles, and get closer to your authentic self.
The Hermit invites you to retreat into your private world and experience a deep sense of seclusion and introspection. You know that you need to take this journey alone or with a small, intimate group of spiritually minded people. When you allow yourself to tune in to your inner, guiding light, you will hear the answers you need and grow wise beyond your years. Find your light, shine it on your soul and create your unique path. You will see what lies ahead of you – not miles upon miles, but enough to know where to step next. From there, take one step at a time.
The Hermit often appears when you are at a pivotal point in your life and considering a new direction. Through meditation, contemplation, and self-examination, you may begin to re-evaluate your personal goals and change your overall course. You will look at your life with a deeper, more spiritual understanding and a few of your priorities will change as a result.
The Hermit also represents the desire to turn away from a consumerist or materialistic society to focus on your inner world. Have you ever seen (or read) Into the Wild? After graduating from university, top student and athlete Christopher McCandless abandons his possessions, gives his entire $24,000 savings account to charity and hitchhikes to Alaska to live in the wilderness alone. Whilst his story has a tragic ending, his journey into the wild was like that of the Hermit, who seeks answers within and knows they will come only with quiet and solitude.
Finally, the Hermit may appear in your life as a spiritual mentor here to raise your vibration and enhance your consciousness. The beauty of this mentor is that, while he may be an expert in his own right, he will teach you how to find your answers within you.
—
Follow me on Twitter and Facebook!
Bookmark this site to get your daily collective astrological overview. You can also sign up to receive notifications by email whenever a new forecast or engaging article is posted.