You might have trouble waking up with your alarm or connecting with your energy level due to some unfortunate aspects that occur in the very early hours of this morning. The Capricorn moon is at odds with the sun while we should be in dreamland, which could manifest in restless vibes or even feelings of unworthiness that lead to insomnia. Mercury is taking its first steps in Aries, after switching signs late last night, which could leave your thoughts racing.
Another difficult aspect, this one between the moon and Venus, could spell heartache, spark relationship issues, or bring up emotional triggers, so the mood won't be ideal as you stir from your bed.
Luckily, this energy doesn't last all day, and the Capricorn moon can make it easier to emotionally compartmentalize, so we can at least be functional. Just be careful that you don't come off as distant or cold, especially if you run into issues with the people you care about. It might not be the best day to bare your heart and soul, and it's okay to take some space for yourself if you feel unable to face your emotions at this time.
Tonight, the moon cuddles up to transformative Pluto. The energy here can give us all the opportunity to release any frustrations from the day, giving way to a brighter and happier tomorrow!
With Mercury now in Aries, our intellect is quickened and we can begin to find the courage to allow our thoughts to guide our actions — a significant departure from the tendency to simply dream about taking action. Although the changes may feel somewhat subtle, this is actually a powerful sea change: Our thoughts inspire actions, our actions ripple out, connecting with the actions of others. The results give us important new elements to consider and work with. The Moon's afternoon sextile to Neptune keeps our inspiration flowing while we begin to recognize the distinct expansion of possibility.
DAILY ORACLE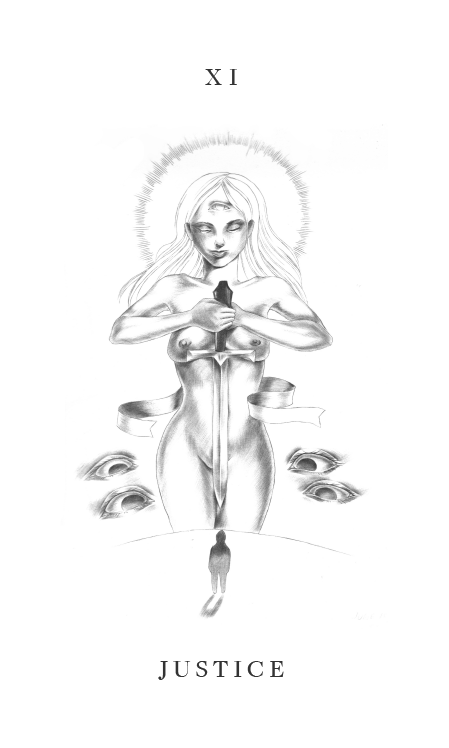 The Justice tarot card is a symbol of truth, fairness, and law. As she sits in her chair, the scales in her left hand represent how intuition should balance logic. She symbolizes impartiality with the double-edged sword in her right hand. The clarity in thought which is required to dispense justice are symbolized by the square on the crown she wears. Behind her, there is a purple cloak and standing grey pillars. Beneath her red cloak, which is held together by a clasp, she shows the tip of a white shoe. This is a spiritual reminder that what she delivers are the outcomes of their actions.
The decisions that you make now have long-term effects in all things, both for yourself and others. There will always come a time where you will be judged. The Justice tarot card appearing in a reading signals that a judgment will be made fairly and accordingly. The decisions that you have made in the past will be carefully weighed with fairness. Your feelings around this card may differ depending on your situation.
If you have been wronged, this card's appearance may bring you relief. On the other hand, if your actions caused pain to others, this card serves as a warning. Her appearance represents a chance for you to change your actions now for a better future. When a tarot card reading shows the figure of justice, it is time to account for your actions.
ASTROLOGICAL SNAPSHOT
Today is the 94th day of 2021
77 days until the summer solstice
55 days until Mercury Retrograde
271 days until 2022
Sun is in Aries
Moon is in its LAST QUARTER in Capricorn
Mercury is in Aries
Venus is in Aries
Mars is in Gemini
Jupiter is in Aquarius
Saturn is in Aquarius
Uranus is in Taurus
Neptune is in Pisces
Pluto is in Capricorn
Chiron is in Aries
—
Follow me on Twitter and Facebook!
Bookmark this site to get your daily collective astrological overview. You can also sign up to receive notifications by email whenever a new forecast or engaging article is posted.