Yesterday's impatience may have encouraged us to rush past or ignore important signals that we recognize more clearly today. The need to make some sort of course correction is likely to be fairly obvious. Mercury's conjunction with Neptune continues to stir a great deal of idealism. The Moon's quincunx to Mercury as it approaches a square to Pluto, is likely to send the message that adjustments must be made — despite any intense, emotional attachments. Unfortunately, the foggy inspiration of the Mercury-Neptune conjunction is not particularly helpful. We won't find much support for vague ideas or notions. Nonetheless, by making the necessary adjustments quickly, we will find that our opportunities expand quickly. The Moon goes void-of-course early this evening at 5:07 PM PDT.
THE WEEK AHEAD: This week begins with a highly energized Libra Full Moon opposing Venus and Chiron conjunct the Sun. The energy is highly idealistic and impatient. Many of us feel a strong need to rush ahead, possibly in some sort of race to be first. Practicality may not be easy to come by except through the Libra Moon's desire for interaction, debate, and discussion — the need to connect and listen. The Aries Sun's conjunction with Chiron and Venus encourage the idealism but may not clearly show us exactly how to pursue the necessary interaction and fully listen to what others are offering. There may be more of a tendency to steam roll others in order to move forward with the forceful determination that Aries is sometimes known for. Monday's Mercury-Neptune conjunction further feeds the idealism. Nonetheless, as we move through the week, the impatience slowly begins to dissipate. We may begin to recognize that we have missed important information in our rush forward. We may also recognize that our impatience has created a distorted perspective that requires us to make significant course corrections. The need to reach out to others for information and a broader perspective becomes increasingly important. The urgency and impatience is slowly replaced with a search for better understanding. Our curiosity begins to stir a desire for learning new capabilities and more efficient approaches that, while they may take extra time, will produce better and longer lasting results. Optimism also begins to replace the impatience. The week may seem to become increasingly chaotic but, as things fall into place, we are encouraged that we have finally begun to follow the proper course. By the end of the week, Mercury leaves the inspiring but foggy realm of Pisces for bold and direct Aries where it will establish a Mutual Reception with Mars in Gemini. The Mutual Reception will help us to more clearly communicate our vision and inspiration with practicality and directness.
Monday's Full Moon brings both inspiration and impatience. The more we can listen and maintain balance between opposing demands and feelings, the more productive we will be. We begin to recognize what impatience is doing to us on Monday. We recognize that we need to make adjustments to our approach and our direction. Intellectual curiosity stirs our desire to listen and learn on Tuesday. We can more easily acknowledge inconsistencies and go directly to the heart of the matter. We may recognize missteps or mistakes on Wednesday that need to be quickly addressed and corrected. There is little recrimination, just a straightforward desire to correct the mistakes. There are significant breakthroughs on Thursday. Optimism helps us to deal with a rather chaotic environment. Things may seem to fall into place spontaneously. Optimism continues into Friday but there is more focus on establishing guidelines and taming the chaos. We recognize how important consensus and cooperation are to making any progress. Saturday's Capricorn Moon brings increased stability, helping us to root out discrepancies and clarify the information that we have been gathering. We can recognize that working with others actually provides a more efficient process.
DAILY ORACLE
The Emperor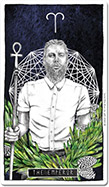 Think of someone you admire. If that person is responsible, decisive, and clear in their thinking and action, they have much in common with the Emperor. That person may not be a nurturer by nature, but they make up for it with their ability to plan, structure, and delegate. And the world is better for it.
Of course, the Emperor's rigidity may not always be in order. While his scepter and stern eye may gleam as though he has everything under control, the confining foliage beneath him indicates that too much structure can rob us of our lust for life.
ASTROLOGICAL SNAPSHOT
Today is the 87th day of 2021
84 days until the summer solstice
62 days until Mercury Retrograde
341 days until 2022
Sun is in Aries
Moon is Waning Gibbous in Libra
Mercury is in Pisces
Venus is in Aries
Mars is in Gemini
Jupiter is in Aquarius
Saturn is in Aquarius
Uranus is in Taurus
Neptune is in Pisces
Pluto is in Capricorn
Chiron is in Aries
—
Follow me on Twitter and Facebook!
Bookmark this site to get your daily collective astrological overview. You can also sign up to receive notifications by email whenever a new forecast or engaging article is posted.
Share this: