When the moon opposes Mercury in the wee hours, it adds confusion and anxiety to the early part of the day. Avoid hashing it out with loved ones, because those words are more than likely going to end in volatile expletives. If you're frustrated right now, swallow your pride and accept that you're probably being irrational.
Quiet time spent in reflection is highly recommended because the moon opposes Neptune later in the morning, making us all overly emotional wrecks. This also brings even more chances that you'll simply have the wrong idea about everything. Be careful also not to over-idealize anyone. Someone could easily take advantage of you if you put too much trust in them.
Later in the evening, the moon trines Pluto and you may not be able to see how much influence people you admire have over you. Be careful and make sure that they aren't manipulating you. This would be an ideal day to have a psychic reading or therapy session because it could expose secrets from past lives or reveal things from your subconscious. Because this is an inquisitive transit, you might find yourself wanting to discuss psychology as well. Ask questions, but be careful not to seem obsessive about it. You aren't the only one who isn't perceiving everything exactly right.
We are prone to over extending ourselves today but the Moon's trine to Pluto may help to keep us somewhat stabilized and productive. This is not a good time to try to force anything, despite the feeling of a building imperative as we head into tomorrow's Full Moon (11:48 AM PDT 8° Libra/Aries). Mars conjuncts the North Node today, which stirs energy to levels that may be very difficult to use constructively. If we can maintain a modicum of self-control and take extra time to organize our thoughts, the inclination to push too hard may be alleviated. By the time the Moon goes void-of-course late this afternoon at 4:47 PM PDT we may be able to more easily recognize the need to take a step back for rest and reflection. However, the void-of-course Virgo Moon also has the potential to stir some unnecessary nit-picking.
DAILY ORACLE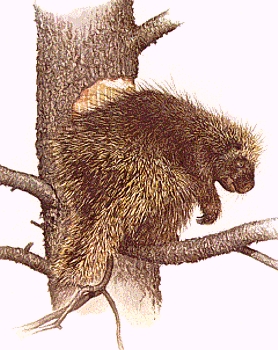 Porcupine
Porcupine has appeared in your reading today to bring a message of innocence and trust. Although Porcupine can throw quills when cornered, he is gentle, loving, and non-aggressive. Is there an area of your life that need Porcupine energy? Have you lost the ability to trust?
When Porcupine Spirit calls your name, you are being asked to adopt a beginner's mind and to approach situations with innocence and curiosity—the old, confin- ing stories no longer have a hold on you. Life is full of surprises hiding in plain sight. Looking at the world afresh, with new eyes, can help you find what you have been seeking, whether it is a relationship, an opportunity, or evidence that you have all you need right now to co-create what you desire. Who knew? Porcupine asks you to be playful and have a childlike curiosity. There is so much waiting for you that you have yet to discover!
ASTROLOGICAL SNAPSHOT
Today is the 86th day of 2021
85 days until the summer solstice
63 days until Mercury Retrograde
342 days until 2022
Sun is in Aries
Moon is Waxing Gibbous in Virgo
Mercury is in Pisces
Venus is in Aries
Mars is in Gemini
Jupiter is in Aquarius
Saturn is in Aquarius
Uranus is in Taurus
Neptune is in Pisces
Pluto is in Capricorn
Chiron is in Aries
—
Follow me on Twitter and Facebook!
Bookmark this site to get your daily collective astrological overview. You can also sign up to receive notifications by email whenever a new forecast or engaging article is posted.