There is a warm and loving energy to the morning because the moon enters Taurus and sextiles Mercury. When the moon is in Taurus, we feel peaceful and serene and motivated by comfort in the home. You could be more concerned about your home life than almost anything else when the moon is in this sanctuary-loving sign. When it's accentuated by the sextile, it only deepens the longing to connect with loved ones. Conversation comes naturally and can range from gossip to philosophical epiphanies. It doesn't matter to anyone as long as you're together. Everyone brings valuable contributions as well, so it doesn't have to feel like one person is doing all the work.
Later, the sun sextiles Pluto, and the ambition to succeed is real. This is great because most of us have some new goals we're excited about, and this aspect keeps that motivation going. You might find that you're attracting attention while you're out there killing it, so don't be surprised if someone takes notice.
At the very end of the day, the moon conjoins Uranus, which challenges you to trust your instincts because overthinking right now could cause some real conundrums. However, taking an enormous risk isn't advisable at this time either. You need to make quick logical choices now.
The Moon's arrival in Taurus and a productive Sun-Pluto sextile helps us to further deescalate yesterday's tensions. The easy-going atmosphere provides enough space to allow for smooth progress and detachment. Nonetheless, with the Moon approaching Uranus, we should expect a few surprises. In this highly intuitive environment, we may suddenly recognize important new information that (once again) suggests a subtle course correction or a welcome opportunity for further exploration or innovation. We may also recognize opportunities to jettison dead weight or clear away debris that has been especially distracting or otherwise slowing us down and getting in our way.
ASTROLOGICAL SNAPSHOT
Today is the 75th day of 2021
4 days until spring equinox
74 days until Mercury Retrograde
353 days until 2022
Sun is in Pisces
Moon is in Taurus
Mercury is in Pisces
Venus is in Pisces
Mars is in Gemini
Jupiter is in Aquarius
Saturn is in Aquarius
Uranus is in Taurus
Neptune is in Pisces
Pluto is in Capricorn
Chiron is in Aries
NEW FEATURE!
DAILY ORACLE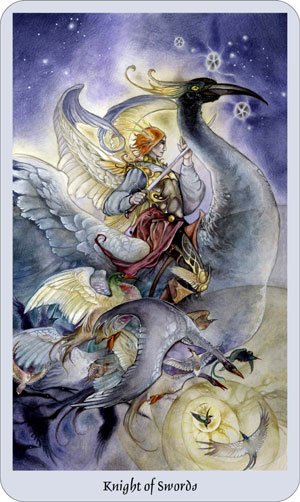 The Knight of Swords is all about the intellect and it will feel at times today that it has a life force all its own. You may at times feel like a spectator to your own life. This doesn't have to be a bad thing, channel this mental energy and you will have one of the most satisfying and productive days you've had in a long time.
It might be a good idea to write down all the ideas that come to you, in their raw form and all the adjustments, so you can reassess them when you're in a mentally calmer state. If you do that though, be careful not to let your inner naysayer get in the way of the potential that flew from your active and brilliant mind today.
Such high energy can also bring about tension. Arguments can ensue & you may find yourself verbally defending yourself or your position. You may also be taking the fight to someone else. One thing is for sure, with the bit between your teeth, you are on top of every game today.
—
Follow me on Twitter and Facebook!
Bookmark this site to get your daily collective astrological overview. You can also sign up to receive notifications by email whenever a new forecast or engaging article is posted.
Share this: